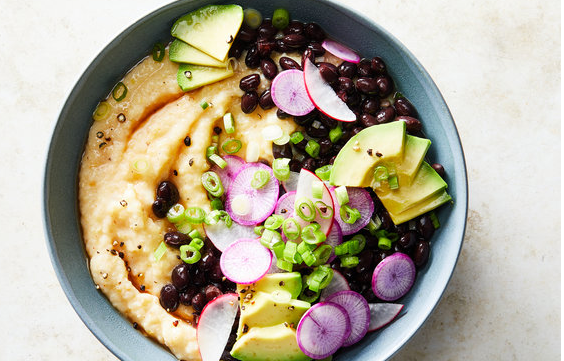 Cheesy Grits with Shredded Chicken
Grits are a filling, versatile staple and here we add a punch of nutrients and play up the natural sweetness with shredded carrot. Cheese adds a creamy, salt flavor – any works but a good sharp Cheddar or Parmesan is especially nice. Top with spicy, shredded chicken breast and any number of your favorite toppings; chopped tomato or salsa, cilantro, avocado, radishes, green onions, diced jalapeno, roasted vegetables, corn kernels, etc.
Ingredients
2 3/4 cup broth or water (or any combination of both), more as needed
2 cup milk
1 cup grits or polenta
2 each medium carrots
1 1/2 tsp salt
2 each boneless, skinless chicken breasts
1 tsp cayenne
1/2 cup grated cheese (Cheddar, Parmesan, whatever you like!)
2 tbsp butter, optional
each Garnishes
From Your Home
What You Need
Medium pot
Medium pot with lid
Steps
Mise en Place
1. Read through the entire recipe before getting started. Wash and dry all produce. Shred carrots. 
Step #2
2. In a pot, combine 2 cups broth or water with milk, grits, shredded carrots, and 1 teaspoon salt. Cook over low heat, stirring frequently, until completely tender, 20 – 25 minutes.
Step #3
3. Meanwhile, in a small saucepan, place the chicken breasts in a single layer on the bottom. Sprinkle with remaining 1/2 teaspoon salt and cayenne pepper. (Feel free to add any other aromatics you like! A few slices of jalapeno, a garlic clove, maybe a little beer…). Cover with enough broth or water to cover. Bring to a boil over med-high heat, reduce heat to low, cover, and simmer until chicken in cooked through (165 degrees), about 10-14 minutes. Remove chicken to cutting board.
Step #4
4. Use two forks to shred chicken into bite sizes pieces.
Step #5
5. When the grits are tender, remove from heat, and vigorously stir in the 1/2 cup cheese and butter, if using, until the grits are creamy and almost fluffy.
Step #6
6. Spoon grits into bowls, and top with shredded chicken & your garnishes of choice. Finely grate a little more cheese if you'd like, and serve warm with hot sauce and lime wedged if desired.