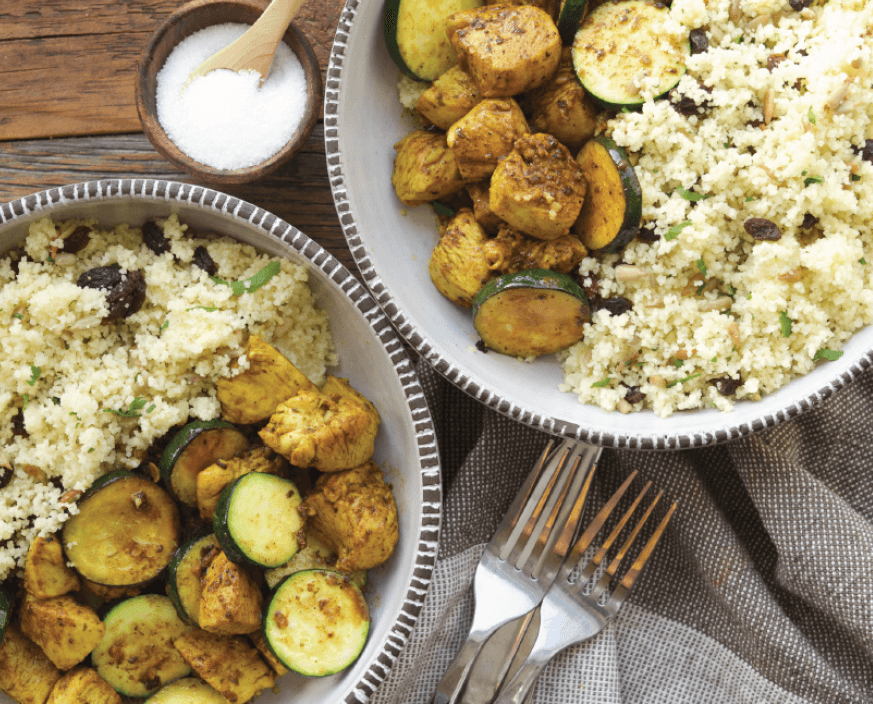 North African Spiced Chicken with Zucchini & Raisin-Sunflower Quinoa
Tangy, spiced marinated chicken and zucchini served with sweet and crunchy raisin-sunflower couscous.
Using a delicious homemade spice blend not only adds oodles of flavor to recipes, but can be used in place of higher sodium premixed spice blends and can save you lots of money! Check your grocery store for a bulk spice section and check out the tip section on the back for East Side Table Ras El Hanout spice blend recipe.
These healthy North African chicken bowls are a great way to get a balance of protein, vegetables, dairy, healthy grains and flavor ! It is important that all meals in our day have a good, healthy balance.
Cooking Terms
Sear

To cook the surface of meat very quickly with intense heat.

Mince

To cut a food into very small pieces.

Deglaze

To dissolve the small particles of sautéed meat left in a pan by adding liquid and heating, then scraping pieces off the bottom of pan.
Ingredients
1 each Lemon
10 sprig Parsley
4 oz Raisins
2 oz Sunflower seeds
6 each Garlic cloves
2 each Zucchinis
1.5 cup Quinoa
2 tbsp Ras al Hanout
4 each Chicken breast
From Your Home
Salt
Black pepper
Olive or canola oil
What You Need
Small pot
Large pan
Small bowl
Steps
Mise En Place
Read through entire recipe before getting started. Wash and dry all produce. Zest lemon; cut in half, then juice. Mince parsley. Mince or grate garlic. Remove root from zucchini, slice into ¼" rounds. Remove chicken from package; rinse, pat dry and cut into ½" cubes.
Marinate Chicken
Add 1 Tbsp. lemon juice, ras al hanout, half parsley, 2 tsp lemon zest, diced chicken, a pinch of salt and pepper and 2 Tbsp. oil together in a small bowl. Mix until combined and evenly seasoned.
Cook the Quinoa
Bring 1 cup water to boil in a small pot over medium heat. Add quinoa, cover and turn heat off. Allow to cook for 8-10 min. While quinoa is cooking, begin to sear chicken (Step #4).
Sear the Chicken
Heat 1 Tbsp. oil in large pan over medium heat. Remove chicken from marinade (reserve marinade), add chicken to pan and sear until lightly browned, about 3-4 min per side. Add zucchini, marinade liquid and ¼ cup water to deglaze the pan. Simmer 1-2 min until flavors have dissolved into the liquid.
USDA recommends cooking chicken to an internal temperature of 165ºF.
Finish the Quinoa
Fluff quinoa with a fork. Add sunflower seeds, other half parsley and raisins; mix well. Season with salt and pepper to taste.
Plate Your Dish
Divide quinoa between two bowls. Top with chicken, zucchini and plenty of pan drippings. Mix together before eating. Enjoy!