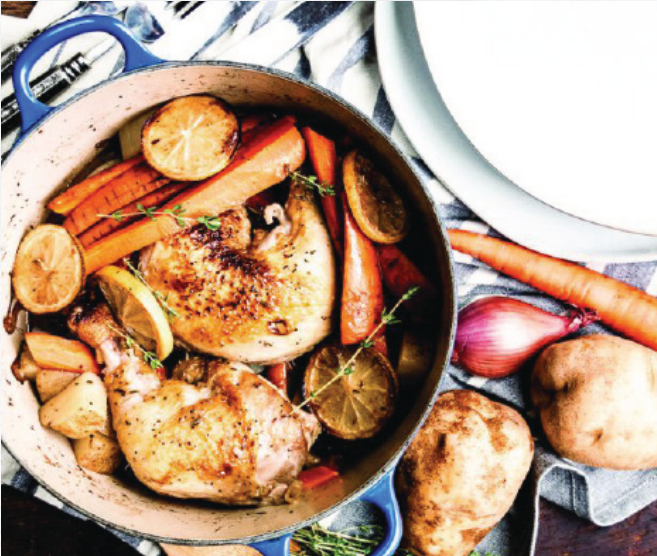 One-Pot Dijon Roasted Chicken with Carrots & Potatoes
This one-pot miracle dinner is the very definition of comfort food. Easy, simple and full of flavor. Au jus is a traditional French technique which refers to the concentration of flavors released by meats and vegetables while cooking. This forms a pan sauce that can be served with the dish. It's a simple trick to maximize flavor and impress your friends and family with your classical French cuisine skills! Root vegetable crops – such as the carrots and potatoes featured in this dish – are in season in the fall. When stored in a cool, dry place, these veggies can last for long periods of time, making them ideal crops to eat throughout the fall and into winter. Remember to leave the skin on when preparing these veggies for a little nutritional boost!
Cooking Terms
Shimmering

Oil begins to shimmer when its heated above 300°F. It obtains a shiny, glistening look and a flowy texture, like water as it coats the bottom of the pan.

Deglaze

Use liquid to remove and dissolve browned food residue from a pan to flavor sauces, soups & gravies.

(Au) jus

"With juice" juices obtained from cooking or roast- ing meats, vegetables, and more; Reused as a sauce or gravy to add more flavor.
Ingredients
1/3 cup dijon mustard
1 each lemon
16 sprig thyme
6 each cloves garlic
4 each potatoes
4 each carrots
2 each packs of chicken quarters
1 tbsp butter
From Your Home
Salt
Black pepper
Olive or canola oil
What You Need
Dutch oven or large pot
Steps
Mise En Place
Read through the entire recipe before getting started. Preheat oven to 375ºF. Wash and dry all produce. Press garlic cloves with flatside of knife until smashed. Remove ends from shallots, peel and thinly slice into halfmoons. Cut potatoes in quarters, then slice into ¼" pieces. Remove ends from carrots, cut into HALF and in HALF again to form quarters. Cut lemon into ¼" slices. Tear any thick, woody stems from thyme, tender stems may remain. Remove chicken from packages. Rinse and pat dry.
Sear Chicken
In a large Dutch oven or large pot, heat 2 Tbsp. oil until shimmering. Season chicken with salt and pepper. Add 2 chicken quarters, skin-side down and sear over high heat undisturbed until skin is golden brown and crispy, 3-4 min. Flip and repeat on other side for 3-4 min more. Transfer to a plate. Repeat with remaining chicken quarters.
Make Sauce
Add butter to pot and melt. Add garlic and shallot and cook over moderately-high
heat, stirring occasionally, until tender and beginning to brown 2-3 min. Add Dijon mustard and cook, stirring, until its oils begin to separate, 2-3 min. Add thyme and 3/4 to 1 cup of water to deglaze pan and cook, scraping up any brown bits on the bottom.
Prepare Roast
Add potatoes, carrots and lemon to the pot and stir to coat with sauce. Return chicken to pot, nestling it in with the vegetables.
Roast in Oven
Cover and transfer to oven. Bake for 40-45 min, basting every 10 min until chicken is fully cooked and vegetables are tender. Remove from oven.
The USDA recommends cooking chicken to an internal temperature of 165° F.
Plate Your Dish
Divide chicken between four plates. Serve with potatoes and carrots. Drizzle thyme–mustard jus from the pan on top. Enjoy!