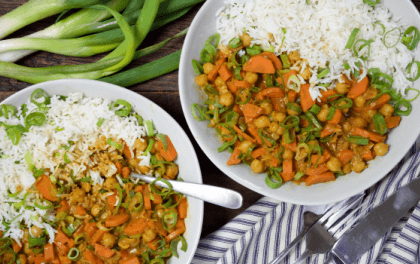 Vegan Chickpea Tikka Masala
Warm vegan chickpea tikka masala with
creamy coconut milk, fresh green onions and
carrots.
Enjoying a vegan/vegetarian meal once a week has
been shown to reduce heart disease and stroke
risk, lower cancer risk, help save money and reduce
your carbon footprint. This easy Vegan Chickpea
Tikka Masala dish is packed with protein and fresh
vegetables. Chickpeas (or garbanzo beans), one of the oldest crops in the
world, are an excellent source of plant-based protein
along with fiber, iron, zinc, and other vitamins.
Cooking Terms
Saute

Cook quickly in a small amount of fat over high heat; literally "to jump."

Caramelize

Cook an ingredient slowly until it becomes browned and sweet.

Simmer

Cook gently below or just at boiling point.
Ingredients
1 each Can of garbanzo beans
12 oz Brown rice
5 tsp Tikka spice blend
2 each Cans of coconut milk
4 oz Tomato paste
4 each Spring onions
4 each Carrots
4 oz Mixed greens
From Your Home
Salt
Black pepper
Olive or canola oil
What You Need
Large deep sauté pan
Large pot with lid
Steps
Mise en Place
Read through the entire recipe before getting
started. Wash and dry all produce. Remove
root ends from spring onions and discard;
then, thinly slice both green tops and bulbs;
keep separate. Remove top and peel from
carrots and discard; then, cut in half and
slice into half moons. Drain garbanzo beans
from can; rinse well.
Cook Rice
Place brown rice, 1¼ cups water and a pinch
of salt and pepper in a large pot. Bring to
boil; cover and reduce heat to low. Cook
20-25 min until tender. Fluff with fork. While
rice is cooking, begin sautéing the aromatics
(Step #3).
Note: After cook time, if rice has absorbed all the liquid but isn't
fully cooked add ¼ cup water, cover and cook 8-10 min longer.
Saute Aromatics
Heat 1 tsp. oil in a large sauté pan over
medium heat. Add spring onion bulbs (white
parts) and sauté 1-2 min. Then, add tikka
spice blend and sauté another 1-2 min until
aromatic (having a pleasant smell).
Begin Tikka
Add carrots, garbanzo beans and tomato
paste to pan and sauté another 2-3 min until
tomato paste begins to caramelize.
Finish Tikka
Add coconut milk, ¾ cup water and a pinch
of salt and pepper. Stir until incorporated
and bring to a simmer. Cook simmering for
20-25 min to incorporate the flavors.
Plate Your Dish
Divide rice between two bowls, top with
mixed greens, then spoon chickpea tikka
masala over the top. Garnish with sliced
spring onions (green parts). Enjoy!