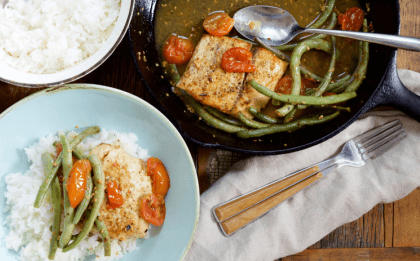 Burst Cherry Tomato Topped Red Drum with Garlic String Beans
Warm buttery seared fish with burst cherry tomatoes, string beans and lemon butter sauce served over fluffed jasmine rice.
Did you know there are over 150 varieties of string beans throughout the world that come in all shapes and colors, including purple! These delicious and crunchy beans are low in calories and fat and contain no cholesterol. The fiber content is very high, and it also provides some of your daily protein requirements. They also act as an easy source for acquiring vitamins and minerals like vitamin A, C, folic acid, calcium, iron and potassium. This recipe uses the string beans as a complement to red drum, a white, flaky fish, and burst cherry tomatoes, adding a little green to this light and summery meal.
Cooking Terms
Sear

Brown ingredients quickly over very high heat, especially the surface areas.

Deglaze

Use liquid to remove and dissolve browned food residue from a pan to flavor sauces, soups & gravies.

Chiffonade

Finely slice herbs or leafy vegetables; best done by stacking leaves, rolling, and then slicing crosswise.

Baste

Pour juices or melted fat over (meat) during cooking in order to keep it moist.
Ingredients
2 each Lemons
12 oz Brown rice
8 oz Cherry tomatoes
8 oz String beans
6 each Garlic cloves
10 each Basil leaves
4 each Fillets of white fish
2 oz Butter
From Your Home
Salt
Black pepper
Olive or canola oil
What You Need
Medium oven-proof sauté pan
Medium pot with lid
Steps
Mise en Place
Read through the entire recipe before getting
started. Wash and dry all produce. Preheat
oven to 400ºF. Cut cherry tomatoes in half.
Chiffonade basil leaves. Remove top and
ends from string beans. Mince or grate
garlic. Cut lemons in half and juice. Remove
white fish fillets from package; rinse and pat
dry.
Cook Rice
Place brow rice, 3 cups water and a pinch of
salt and pepper in medium pot over medium
heat. Bring to boil; cover and reduce heat to
low. Cook 15-20 min until tender. Fluff with
fork. While rice is cooking, begin searing the
fish (Step #3).
Note: If the rice has absorbed the water but isn't
fully cooked after 20 min; add ¼ cup of water,
cover and cook for an additional 8-10 min.
Sear Fish Fillets
Heat 1 Tbsp. oil in medium sauté pan over
medium heat. Season fish with a pinch of
salt and pepper. When hot, add fish and sear
3-4 min per side until brown on both sides.
Carefully remove from pan and set aside.
Note: Fish fillets wont be fully cooked at this
point.
Make Sauce
Continuing in the same pan, add garlic and
cherry tomatoes; sauté 2-3 min until lightly
burst and browned. Add garlic and cook
another 1-2 min. Add 4 Tbsp. lemon juice and
2 Tbsp. water to deglaze pan and cook until
reduced to half. Add butter, and stir well
until incorporated.
Finish Fish
Add string beans and toss. Return fish to pan
and spoon butter sauce over it. Place pan
in oven and bake for 4 min, baste then bake
another 5-6 min until fully cooked.
USDA recommends cooking fish to an internal temperature at
145ºF.
Plate Your Dish
Divide rice between two plates. Top with fish,
cherry tomatoes, basil, string beans and
spoon pan sauce over the top. Enjoy!